Most companies like to dance around the money subject, as to not shoot themselves in the foot. However, we think it's at the forefront of any clients mind – how much money do I need to spend, and what am I getting for it?
It's no secret that exhibitions can come with a rather weighty price tag. However, that does not mean that all stands are budget-breaking. 
I promise our next statement is not a copout – but it does depend. It depends on many factors, such as;
What are your needs for the show?
Are you selling a product, or a service?
Who are your competitors, and what do their previous stands look like?
Where is your stand located? 
Now, we appreciate you won't have the answers, but we are here to help you, right from the get go. 
The simple answer? The more you spend, the bigger impact you will have. An everlasting impression with your customers is priceless – so why put a price tag on it? If you are looking to be the biggest stand on the block, then you should be prepared to spend upwards of £80k on your stand. Lights, big constructions, interactive areas, seating arrangements, TV and Audio. All things you can easily include in a budget of that size. Not to mention, as we've already stated, the everlasting impression you'll leave.
'Do you remember X exhibition stand last year? I wonder if they'll top it.'
That's a statement you want your customers to say.
BUDGET LOOKING LIGHTER THIS YEAR? WORRY NOT!
Eaten through your budget for the year? Don't worry, it happens. That doesn't mean you can't have a simple yet effective stand. 
The nuts and bolts of any stand starts with the walls. Have an inhouse designer? Take advantage of that asset; use them to create your wall-graphics. You can heavily reduce the price of your stand by taking away the design costs. 
You don't need flashing lights, huge structures and interactive areas to make an impact. All you need is some professional graphics, a seating area, and the most important asset of any stand; you.
You know your business, and we know exhibitions. Let us manage your stand and work to your budget.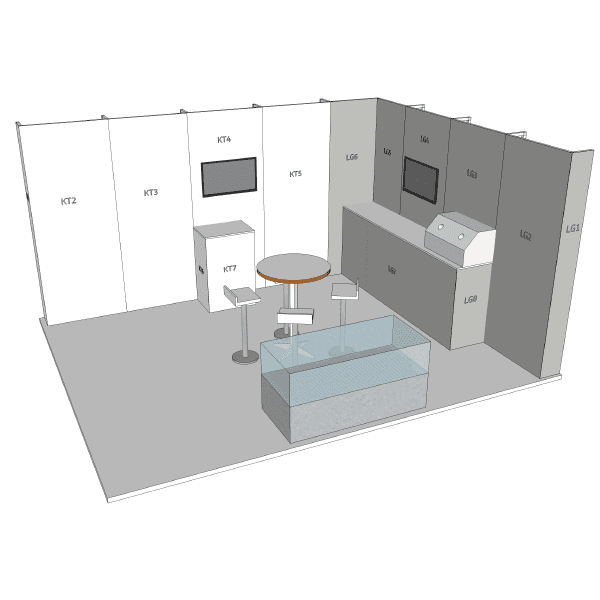 READY TO BUILD?
Have we planted a seed? Let us grow it into a fully grown tree with you, and make a stand that makes your competitors envy you.